Explore and download timely industry-related white papers, eBooks, guides, research reports and more.

Check back often for additional resources!
---
The Advanced Television Systems Committee is publishing a virtual "ATSC 3.0 Progress Report" on May 11, just ahead of the NAB Show Express. The Progress Report can be found on ATSC.org. More than 50 companies who are ATSC members are part of the Progress Report, showing new products and services available for the broadcast industry that relate to the ATSC 3.0 suite of standards. From market deployments to broadcast equipment and services to consumer receivers, the ATSC 3.0 Progress Report will provide a free resource to anyone looking for the latest NEXTGEN TV news.
---

The NAB's Broadcast Engineering and Information Technology (BEIT) Conference Proceedings are now available. The papers included in the Proceedings were prepared for the 74th annual BEIT Conference at NAB Show, the world's largest trade show for the media content creation and distribution industry. The Table of Contents is available here. Proceedings papers can be purchased for online viewing and/or downloading, either individually or as a complete set (66 papers).
---
The National Association of Broadcasters (NAB) has assembled tools and resources to help broadcasters manage their staff, community and cover COVID-19.
---
This Special Edition offers a look at the industry's technology trends and what key experts are saying about them. It also features industry news and covers some of the products that planned exhibitors have unveiled this month.
---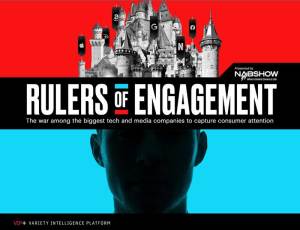 Enjoy a free copy of "Rulers of Engagement," a 29-slide deck that explores the war being waged over consumer attention by the biggest media and technology companies. For more great analysis of the media business, sign up at Variety Intelligence Platform.
---
Now you can add your event to the TV's industry most comprehensive calendar of virtual events. It's free to submit and the calendar is updated often, with all events appearing in a single, easily accessible location.
---